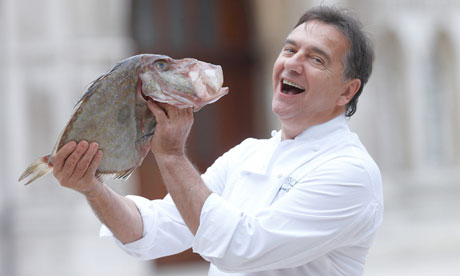 My inspiration- Raymond Blanc
Hello World- boy it's been a long time!
I hope you all had a fab Christmas and New Year? We had a nice, chilled Christmas this year followed by the usual cold on New Year- but it wouldn't be the same without one of us going down with the lurgy.
So, any one out there set any resolutions this year? Anyone actually stuck with them this far? I'm sure most of you will remember that I'm one of those rare people that adore food but can't cook for toffee. I'm so bad at it that I've got to the point where I'm scared to even try! Well it's my 30th birthday this year (next week in fact) so I've decided that it's high time to get over myself and learn how to cook. And by the end of the year I have promised myself that I will be able to do it well enough to hold a dinner party and cook a 3 course meal from scratch for at least six friends.
And to give you some idea of how far I have to go - last week, my patient other-half gave me a lesson in how to cut up an onion without taking my fingers off. I have since graduated to potatoes, broccoli, peppers, carrots (the worst!), swede and sweet potato. So far I'm enjoying it- but you can count on seeing some serious foodie mishaps here over the coming months!
So, tell me, what have you been up to?
See you soon
Laura x